Sunglasses are usually not the first thing on every parent's mind when they are heading out with their children, and even when they do have them they are generally regarded to as a fashion accessory more than a health necessity.


But in reality, having your baby out in the sun for prolonged periods of time without the proper eye protection can lead to
 

premature onset of cataracts and macular degeneration in the future. Both of these conditions could significantly impair your vision, and may even lead to blindness. Other conditions include retinal damage, photokeratitis, and cancer.
The main issue lies within the lens of newborn's eyes. This lens in the eyes of an adult has yellow pigments which absorb UV rays and gets rid of the energy in a safe manner. In a newborn, this lens is still clear and has no protective yellow pigment to absorb the UV rays. This lens is clear for the first 3 years of a child's life, and then slowly starts developing this protective yellow pigment.
Therefore anytime you are out in the sun with your baby, you have to make sure they are wearing sunglasses. A good way to remind yourself is just to remember that anytime you are planning on putting on that sunblock, you should grab the baby shades as well.
Best Baby Sunglasses
While there are many sunglasses that you can find for babies and children at your local big box retailers be careful that you are purchasing as some of those glasses might not give your baby the best protection that they need. Another issue is the quality of those frames might not be able to withstand the destructive forces of a baby. I mean you can't expect your baby to keep the glasses on the entire time right? If you are out buying sunglasses for your baby here is what to look for.
UV Protection

 

– Always make sure that the glasses you are purchasing for your baby blocks 99-100% UV rays.
Gray Lenses

 

– Always make sure when you are getting any kind of sunglasses for your baby that the lenses are gray. Gray lenses make sure your baby see all the colors in their natural form.
Large Lens

 

– You always want the sunglasses to be at least big enough you give your babies eyes the coverage they need from the sun.
So what's my #1 recommended baby shades? RO-SHAM-BO Baby

I just recently stumbled across this company and got a chance to take a look at their lineup of baby sunglasses and I absolutely love them! I highly recommend these glasses for children, especially for children that are hard on their glasses because these things are nearly unbreakable.
Ro-Sham-Bo Baby was founded in 2013 and is a family run company that is based out of San Diego California. They have a spectacular line up of glasses that covers ages from newborn all the way to large adult glasses. Their frame is designed so that your baby could look stylish and takes inspiration from a California classic design. You can find the frames in a wide variety of bright colors, and there are even some that change color when you are out in the sun.
Baby Sunglasses

Unlike many of their competitors who manufacture their glasses in China or Taiwan, Ro-Sham-Bo Baby shades are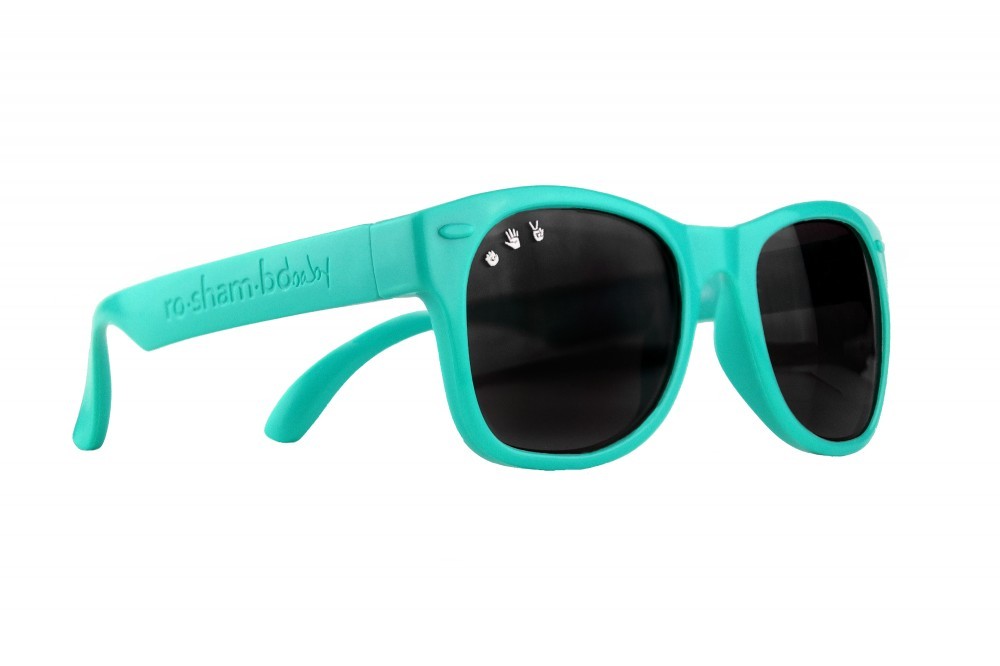 manufactured in Italy by a company that not only has experience with eyewear but also experience with baby products as well.
These glasses are extremely flexible, durable and made with a material that is safe for your baby to wear, bend, throw, or even chew on if they choose to. The glasses have been tested by the manufacturer as well as through an independent lab and is certified to be free of any harmful chemicals such as BPA, lead, latex, heavy metals and any other harmful chemicals.
The glasses also meet the U.S. Federal Hazardous Substances Act 16 CFR 1501 Small Parts, which is a law that is designed to identify toys or any other items that are intended for use by children under the age of 3 years old that may cause choking or ingestion hazards because of small parts. Which means there is nothing on these frames that could pose as a choking hazard for your child.
And we can't forget the whole purpose of these glasses in the first place, UV protection. Of course, the lenses offer 100% UVA and UVB protection and is shatter resistant. If you want to give your baby even better protection from the sun as well as the glare the comes with sunlight, a polarized lens upgrade option is available. They recently also added mirrored lenses to their line up as well.
If you have doubts about their durability, check out this video.
What if your child needs a prescription?
These glasses are RX'able which means that if your child needs a prescription you can easily take these frames to your favorite optical retailer to have them filled, or if you don't already have a place Ro-Sham-Bo Baby has a prescription lens filling service directly on their website.
Purchasing prescription Ro-Sham-Bo Baby shades directly from their website is easy, you would first just figure out which frame size you want, pick your color, upload a copy of your prescription, choose any add-ons you would like and your all set.
The prescription glasses are available in three different option, clear, sunglasses, or transitions.
Home Try-On Kits

This is absolutely my favorite aspect about this company is their home try-on kits that you are able to order directly from their website for free! This gives you the opportunity to make sure you find the pair of baby sunglasses that fit your baby because we all know little ones come in all shapes and sizes and sometimes the estimated age ranges aren't quite right.


Which makes the fact that they have a home try-on kit even more amazing! And since there is a home try-on kit is available you bet I ordered one just to check it out.
If you go to order the home try-on kit on their website, there are actually three ways you can order the kit. You can order the kid with the 3 kids sizes only (baby, toddler, junior), you can order with the two adult sizes (S/M, L/XL), or you can order a pack with all 5 frames. For me, naturally, I had to go with the pack that has all five of the sizes so I could take a look at all of them.
My home try-on kit got to me extremely quick, I believe it took maybe 2 days before these things showed up on my door. It might have to do with the fact that they are only a two-hour drive away from me.
The glasses arrived in a light blue box with Ro-Sham-Bo Baby's logo printed on it. Inside 5 little boxes holds each of the different frame sizes. The frames are shipped to you without the lenses, so it is really just to get a general idea of how the frame size fits your face.
Me with my wider than average head needed to use their L/XL Adult frame, oddly enough I had someone I could ask to try on all the other sizes too. Everyone loved the frame that they tried on, the frames are extremely light.
The kits also came with their strap as well as well as their ear adjuster kit so you can try them out with the glasses. I highly recommend this strap and ear adjuster kit. These kits aren't easily found in your local stores and is a lifesaver in keeping
glasses on your little ones. If you don't want to buy the glasses you can get this strap and ear adjuster kit by itself on their website for like $2.
With the frames in my possession, I had to give the durability a test and if I broke them, well I guess I owe them some money. Maybe it would be covered under their warranty haha.
Can the frames really withstand the destructive power of a baby?
From what I can see, the frames are virtually indestructible and basically just bend back to their original shape whenever you bend them up. Not only are these things designed to be indestructible, but if you take a look at them you can tell that they have been thoughtfully designed. Remember when I said your baby could chew on these things?
These glasses have their logo molded directly onto the side of the temples, therefore, no paint is needed to put their logo on there. If your baby starts chewing on glasses that have paint on them, that paint is going to come right off and into your baby's mouth. And you're not going to be able to keep your baby from chewing on it, at that age everything goes into their mouths.
To top it all off, these frames are so lightweight that they are able to float when you drop them in water. Most glasses would sink to the bottom when dropped in water, the lake has claimed a few of my sunglasses.

Cost
When I first came across these baby glasses I had originally expected their price point to be slightly higher. I have seen some people mention that they are slightly expensive for baby sunglasses. But quite honestly your not going to find another Italian made and American assembled frame with this kind of quality at this price point.
As you can see their prices for the glasses and even the prescription lenses are very reasonable. The frames are guaranteed not to break, but if your child manages to break them they are covered under a 1-year warranty through Ro-Sham-Bo Baby, and if you purchase the scratch protection coating you would have a 1-year warranty for the scratches on your lenses as well.
A percentage of every sale of Ro-Sham-Bo Baby glasses goes to support the charity
 

Surfers Healing. Which is a non-profit organization that teaches children with autism how to surf.
Final Thoughts
While there are a lot of other options out there when it comes to sunglasses for babies I don't think there is another company out there that can compare when you look at the whole picture and make sure that the glasses that you are giving your baby is not only protecting them from the sun but is also safe for them to handle. Which means they have to be durable, chemical free, and free of any choking hazards and these glasses from Ro-Sham-Bo Baby checks off all those things.
Lastly, I love the fact that these glasses are available in a variety of sizes from infant all the way to adults. Having the proper eye protection on when outside is very important for children, but children may not want to wear sunglasses.
One thing that I do know for sure, children love doing what their parents do. Therefore if you are rocking those bright pink sunglasses as well, there's a higher chance your child will keep the sunglasses on their faces.