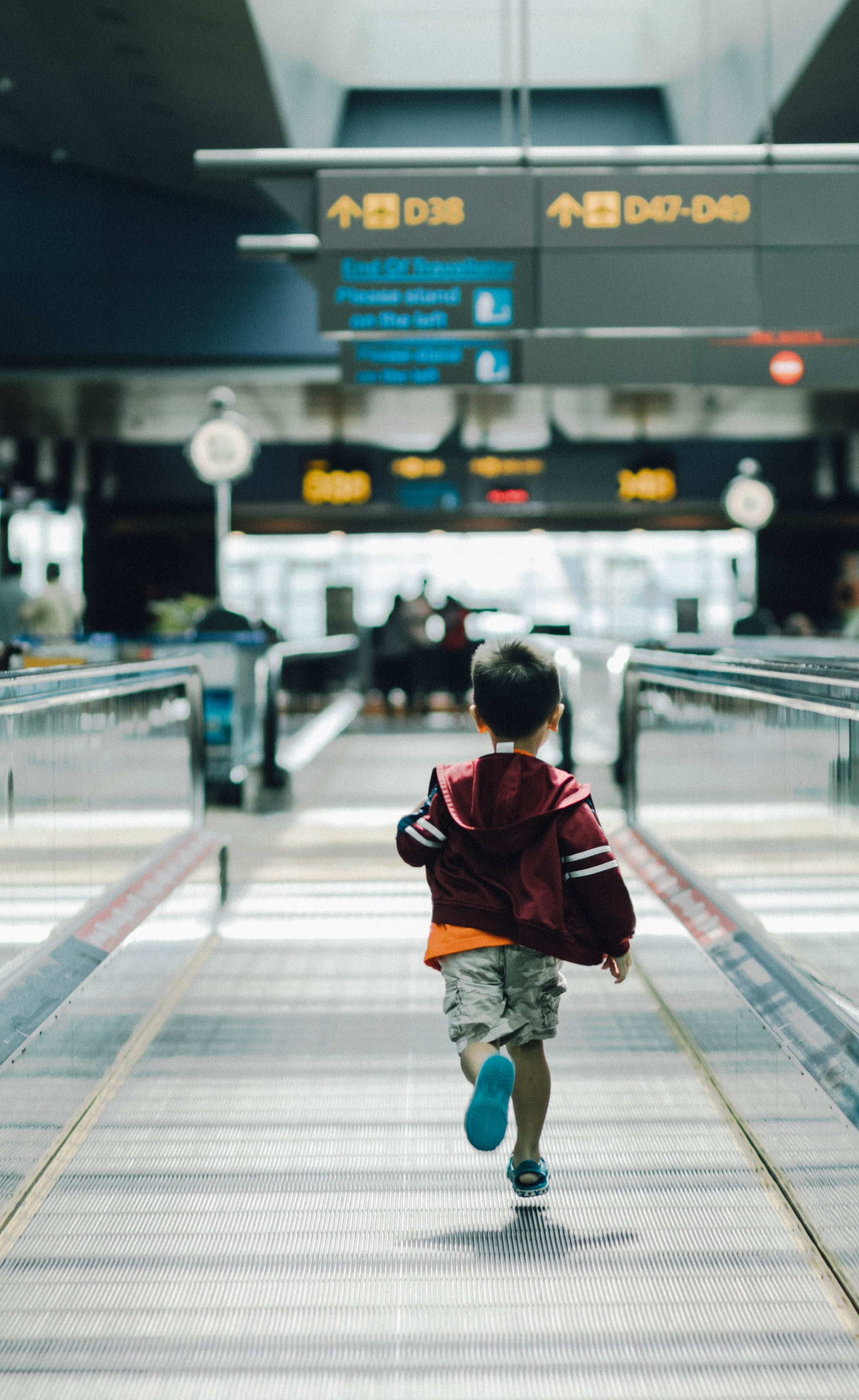 The Christmas season is starting to get to me. I can't get enough of the holiday lights, the music, and the preschool performances, but the crowds, the chaos, and the never-ending to-do list are starting to make me feel more like the Grinch than the magical little Christmas elf I'd like my children to experience. I blame it on the fact that I won't be home for Christmas.
On Christmas Eve morning, my husband and I will be up at 5 a.m., only this time our predawn wake-up call won't be our 11-month-old, who has recently pushed back his wake-up time to at least 5:30 a.m. (lucky us!). Instead, we're setting our alarms to catch a flight to Florida to celebrate Christmas and ring in the New Year on the beach. Undoubtedly, a vacation is just what I need; except, my two children are coming with us, and as most parents know, a vacation with two kids ages 3 and under is really just a trip — and a stressful one at that.
While we've traveled during the holidays before, this is the first time we'll be flying with two kids and the first time we'll be away with a child who actually expects Santa's bounty to show up on Christmas morning. This has definitely complicated things and forced me to come up with a family holiday travel strategy months in the making. Each of my tips has its advantages and disadvantages, but I'm fairly certain they're the only way I'll survive traveling this Christmas without losing my mind.
Ship gifts in advance.

 

This morning, I stood in a 20-person line at the post office and mailed all of my kids' prewrapped presents to our rental in Florida.

 

I went minimal this year, but it still cost me $40 (thanks, abnormally shaped box!). Still, I figured it was cheaper than checking yet another bag at the airport, with the added benefit of not having to lug that bag around. While it's great to have most of my shopping done a full week before Christmas, it did mean that I had to shop early, wrap early, and generally be more organized than normal.
Buy travel-friendly gifts.

 

While I didn't buy my kids a lot of gifts, pretty much everything I did buy was really travel-friendly. New swimsuits and pajamas would have had to be packed anyway, some new coloring books and little games for my daughter will make our flight home easier, and our Disney MagicBands clue my little lady in on her major gift: a trip to Disney that didn't have to be packed at all!
Schedule a diaper delivery.

 

Whether Diapers.com, Amazon, or Honest Company is your preferred provider of diapers, wipes, and baby bath products, now is the time to schedule a delivery straight to your rental or resort. One tip: try to only order as many diapers as you think you'll need. No one wants to leave behind 100 diapers . . . or find room in your luggage to take them home.
Book a car service to the airport.

 

This might seem like an extravagance, but when my husband and I did the math, it was actually cheaper for us to get a car service to take us to the airport than to park there for more than a week. Plus,

 

curbside

 

drop-off means that I'm not stuck alone with two kids and all our luggage for the 30 minutes it would take my hubby to park the car and shuttle back to the terminal. Win, win.
Find a good baby rental service.

 

If you're like us and renting a condo that doesn't come complete with a crib and other necessary baby items, find a local company that will rent them to you. Ours drops off a full-size crib and high chair (my two must haves) before we arrive and picks them up after we leave. In the past, I've rented jogging strollers and bouncer seats, and while the items weren't quite as nice as the ones we have at home, they did the trick. I recommend packing an extra crib sheet and sound machine from home, or you might have a few sleep-deprived nights as your baby adjusts to the new environment.
Pack strategically.

 

I always keep a packing list on my phone so I can add things as I think of them. Some less obvious items that I'm planning on taking include my long-retired baby monitor, necessary so my husband and I can hang out at my parent's condo next door while our kids are asleep; a breast pump, so we can have a couple of dinners out without the kids; and lots of extra chargers and headphones because, hey, an iPad or iPhone has been known to keep me sane on many a flight, car ride, and dinner out.
Bring a little bit of Christmas with you.

 

I struggled with whether being away from home on Christmas would kill a little of the holiday spirit for my daughter, but I decided a few extra days on the beach were worth ditching the possibility of a white Christmas. Still, I'm packing her stocking to fill for Christmas morning, a couple of her favorite ornaments to hang around our rental, and portable speakers so we can play lots of holiday music. Add in tons of family time, and I think our beach Christmas is going to be worth the trip.
www.roshambobaby.com