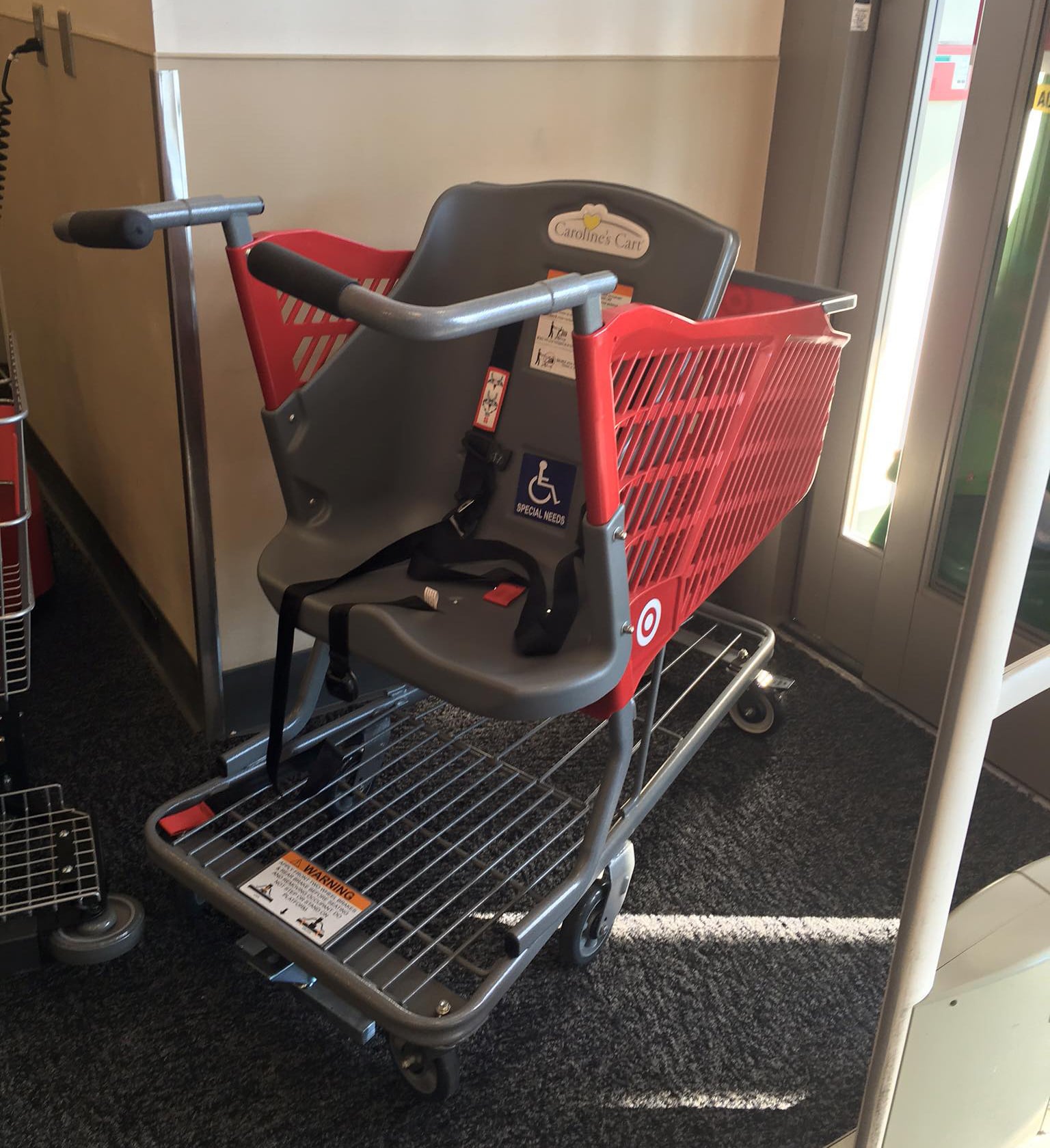 If you don't have a child with special needs, it's hard to understand just how difficult seemingly simple tasks can be for a family. For the Standifords, even a trip to the grocery store is met with stress because of the difficulty in transporting their 6-year-old daughter, Savannah, who has a rare chromosomal deletion that causes life-threatening conditions such as uncontrolled epilepsy, cerebral palsy, heart defects, chronic kidney disease, and severe intellectual impairments.
"When Savannah was younger we were easily able to whisk her up — oxygen tank, apnea monitors and all — and put her in [a] cart or use her stroller for transportation," Adam Standiford, Savannah's father, told ABC News. "As she has aged, she has grown. . . . She is currently almost 4 [feet] tall and nearing 35 pounds. She no longer fits in a standard shopping cart."
When his wife made a recent trip to her local Target in Dardenne Prairie, MO, she discovered something that wouldn't get a second glance from most shoppers but would surely alter her family's life forever. It was a shopping cart designed for older children and adults with disabilities.
Named Caroline's Cart after the creator's daughter, who suffers from Rett syndrome, the simple device "will change how we can shop," Adam said. So moved by the introduction of such a cart, he took to Facebook to thank Target personally.
Dear Target,
I can't express enough how happy my wife was to see this at our local Target today. We have a 6year old handicap girl who either doesn't fit in carts anymore or gets weird looks to as why she's sitting in the basket and can't walk like a normal child. This simple cart literally will change how we can shop, not having to worry as to how we are going to get her into a store. Every retailer in the country should follow suit! It is also quite ironic that my wife's name is Carolyn and the cart is called Caroline's cart. I will forever be Target loyal!
Sincerely,
Every parent of a special needs kid
The post, which already has 117,000 likes, is filled with comments from other parents of children with special needs, all of whom are either sharing their stories about their experience with the shopping cart or asking when one will make it to a store near them. Thankfully, Target was listening:
"Target is always looking for new ways to improve our guests' shopping experience," a representative from the retailer wrote on Adam's Facebook post. "This is just another example of Target listening to guests and making changes based off of their feedback."
The rep went on to let other eager parents know that they are logging their requests.
Have you seen one of these shopping carts at your Target?