A new baby is always cause for celebration, and baby showers are a great way to do that! Before you dive into Katharine Stahl's list of amazing baby shower decorations, check out our Fresh Prince baby sunglasses! They make a perfect baby shower gift because they look awesome, and they will keep the newborn's eyes safe. And if Mommy loves them, there's a size for her, too!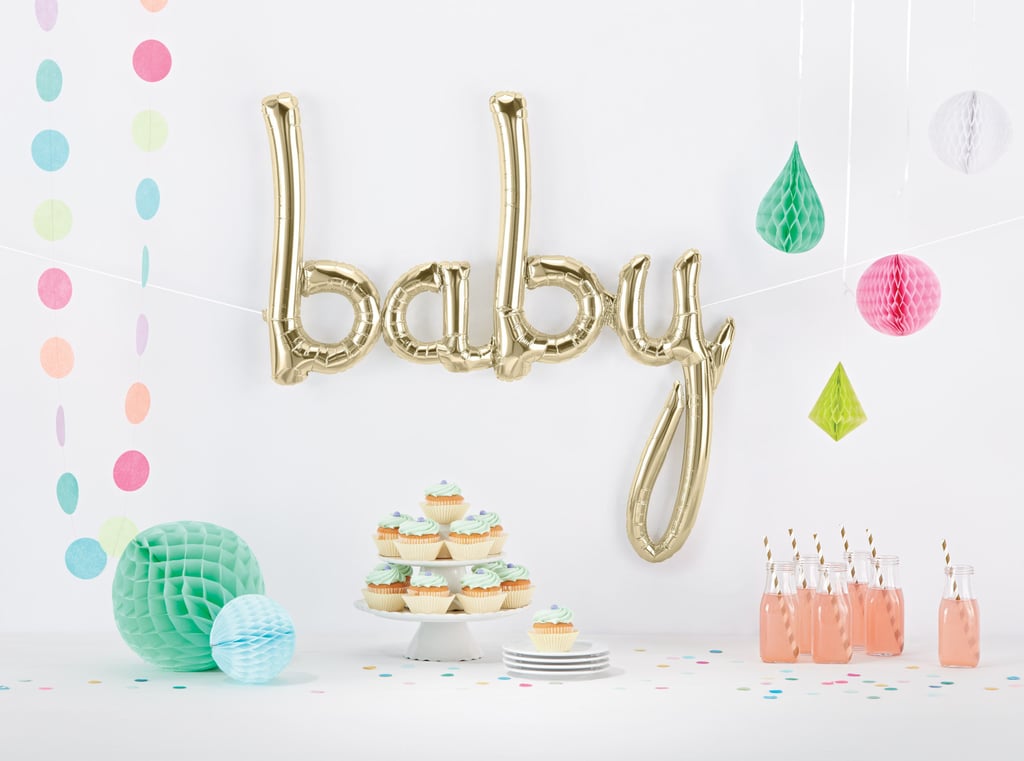 Even the simplest baby shower can be special, but add some gorgeous decor and you go from sweet to "oh, baby!" Check out the following balloons, backdrops, banners, and more to add some extra pizzazz to your next event honoring an expectant mom and her impending arrival. From DIY ideas for novice and advanced party planners to click-and-buy decorations that will make your party extra pretty with minimal effort, these 33 ideas are sure to please every partygoer, especially the guest of honor.
1. Boho Baby Welcome Sign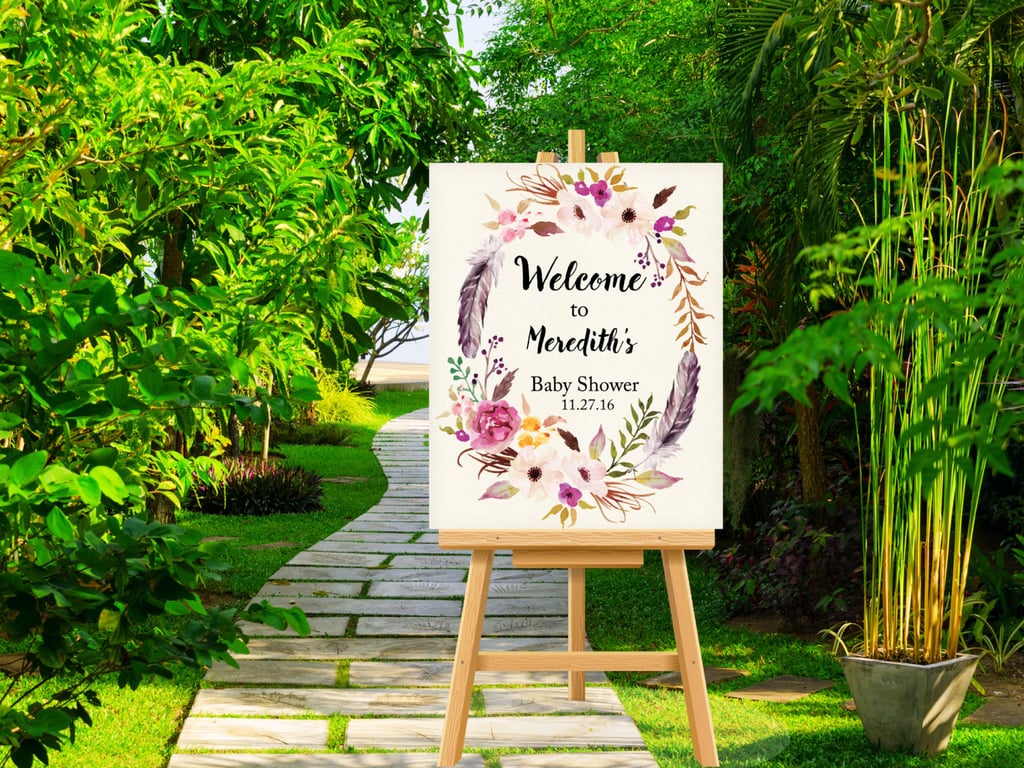 Etsy seller Inscape Baby Shower's printable welcome sign ($10-$20) is sure to impress your guests at first sight. The floral and feather watercolor design is customizable and comes in various sizes.
2. Crepe Fringe Backdrop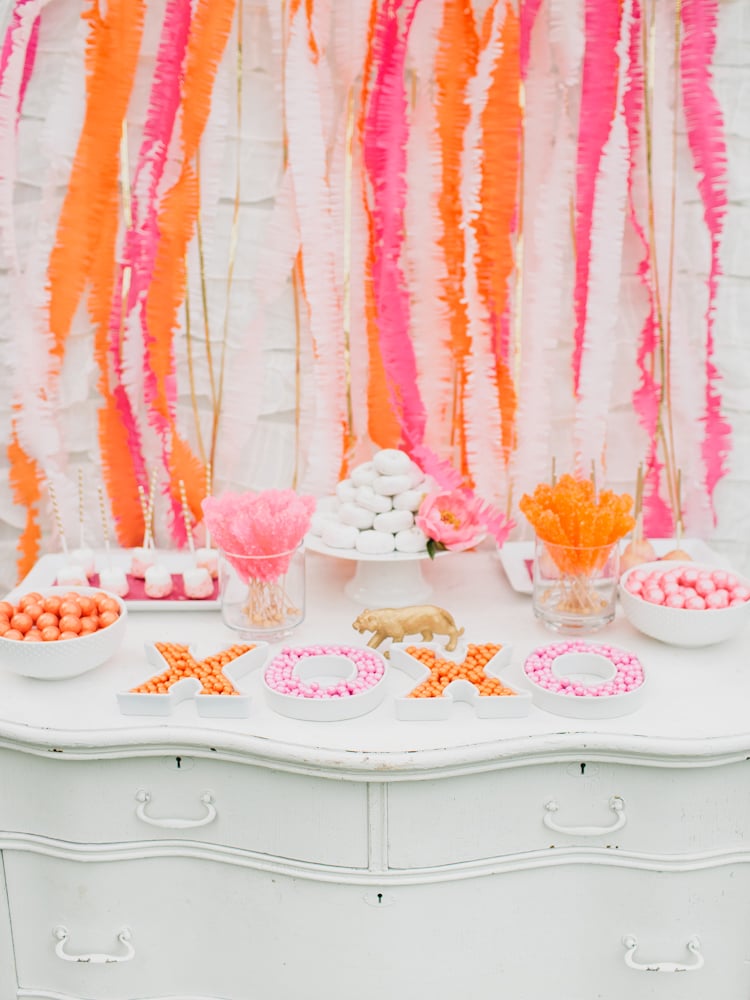 Maddy Hague of Splendid Supply Co. made her own DIY crepe fringe backdrop to hang behind the dessert table at this luxe, gold-and-pink baby shower.
3. Hello Baby Cake Topper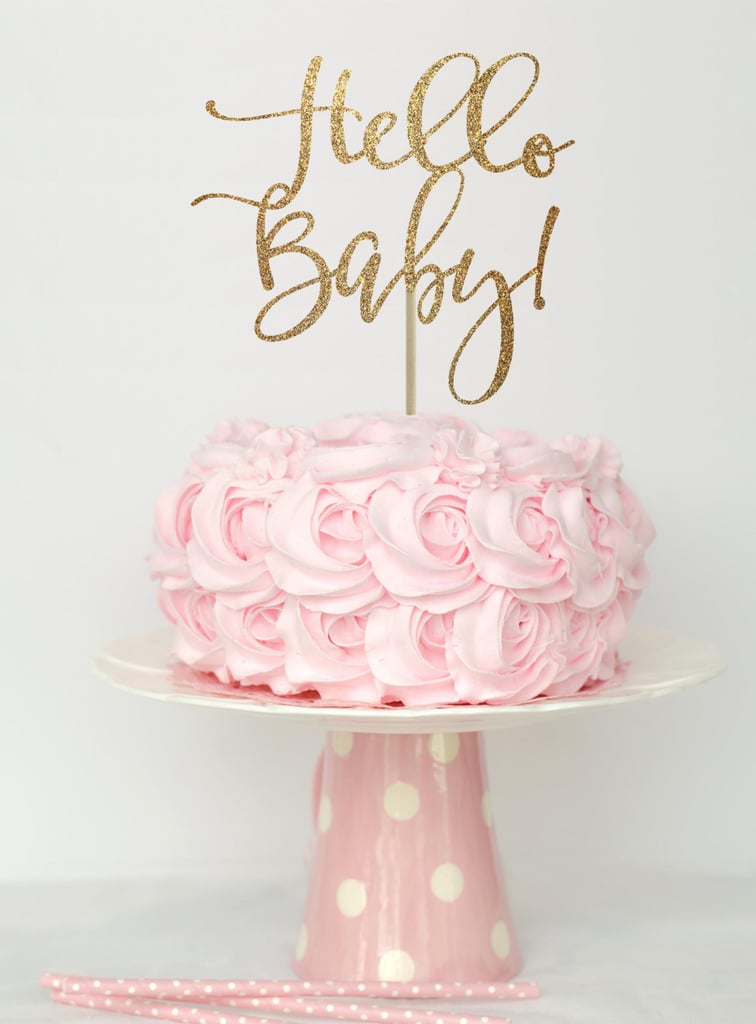 Available in gold, silver, or pink glitter, Etsy seller Cake to the Top's "Hello Baby" cake topper($10) is an easy way to add some sparkle to your baby shower.
4. Showers Ahead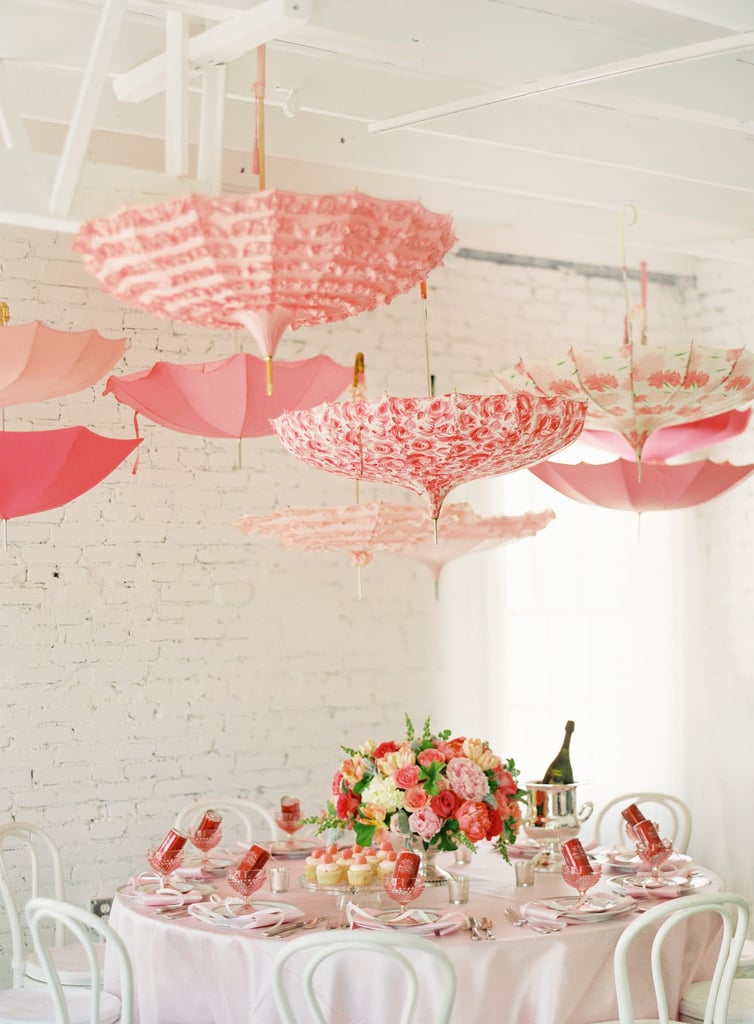 Event planner Karson Butler created the lovely table with vintage umbrellas from Bella Umbrella hanging from the ceiling at this pickles and pink baby shower.
5. Welcome Baby Backdrop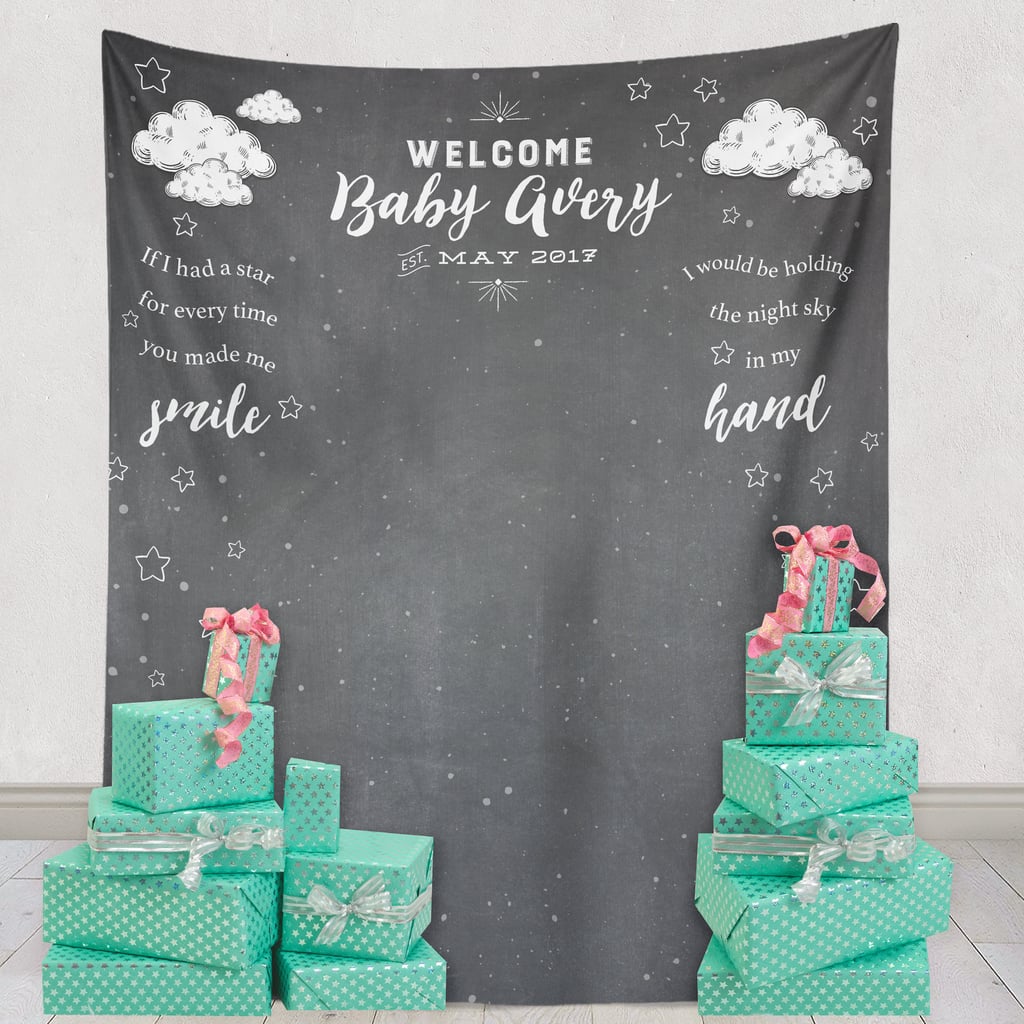 Etsy seller Paper Ramma's baby shower backdrop ($69-$89) comes in two sizes and more than a dozen colors. Customize it with the mom-to-be or baby's name and estimated due date, and use it as a backdrop for the dessert table or as a photo prop.
6. Book Garland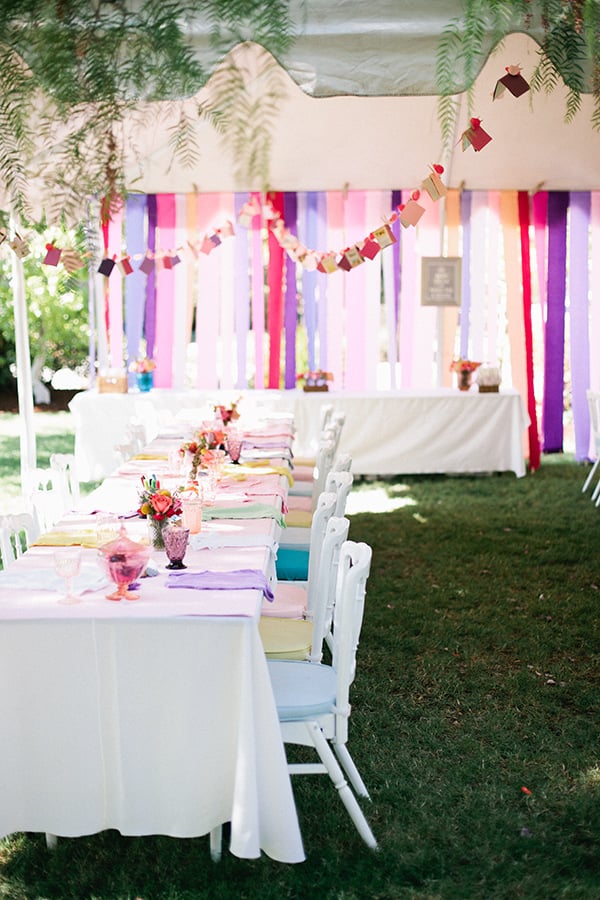 The DIY book garland at this storybook shower was made by the guest of honor Katie's mom using this Martha Stewart tutorial. "She used old kids' books to create the minibooks and even found letters for our names as well as the 'vowels' (our last name!)," Katie said.
7. Oversize Tassel Balloons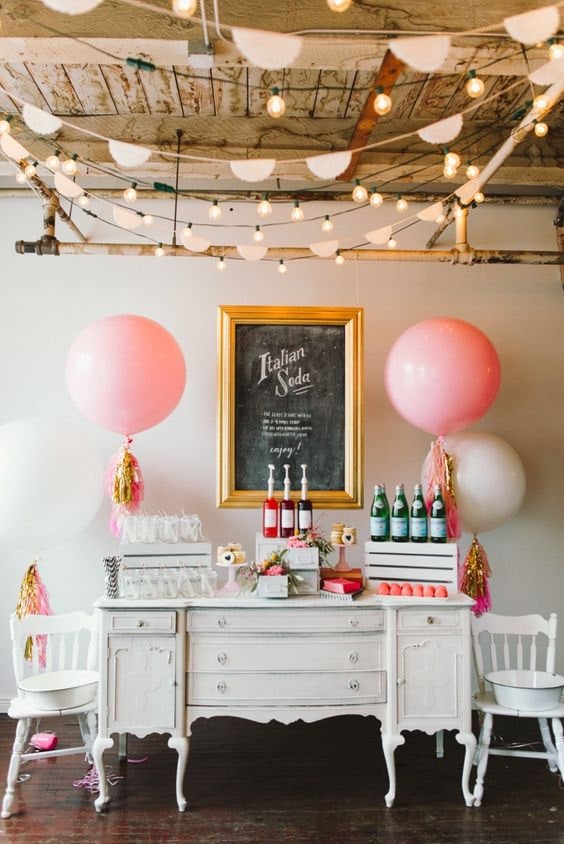 Take your balloon game to A Joyful Party's tassel-tailed balloons ($60 for four). The 36-inch balloons each come with a four-foot-long garland. Use them to add interest to a buffet or as an awesome photo prop.
8. DIY Map Mobiles 
Courtney Cargile of A Little Savvy Event created DIY map mobiles, adding some serious style to this vintage-inspired sip and see. "I found plastic embroidery hoops at a thrift store and then spray-painted them pink. I took old maps and secured them in the hoops and then cut the excess paper around the edges. I hung the mobiles in the window so they would be slightly illuminated," Courtney said.
9.Ruffle Backdrop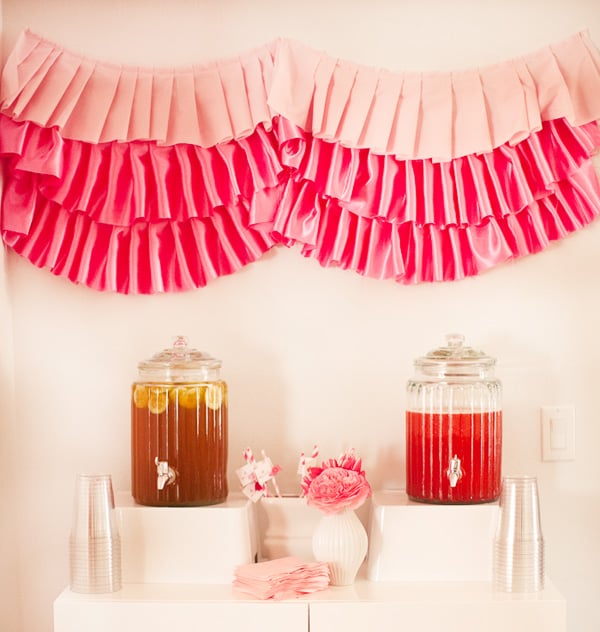 Image Source: Gabriel Ryan Photographers for Hostess With the Mostess
Event designer Jesi Haack created this gorgeous ruffle backdrop for a ruffle- and ribbon-filled shower thrown for pastry chef Melody Brandon of Sweet and Saucy Shop.
10. Hello World Decorations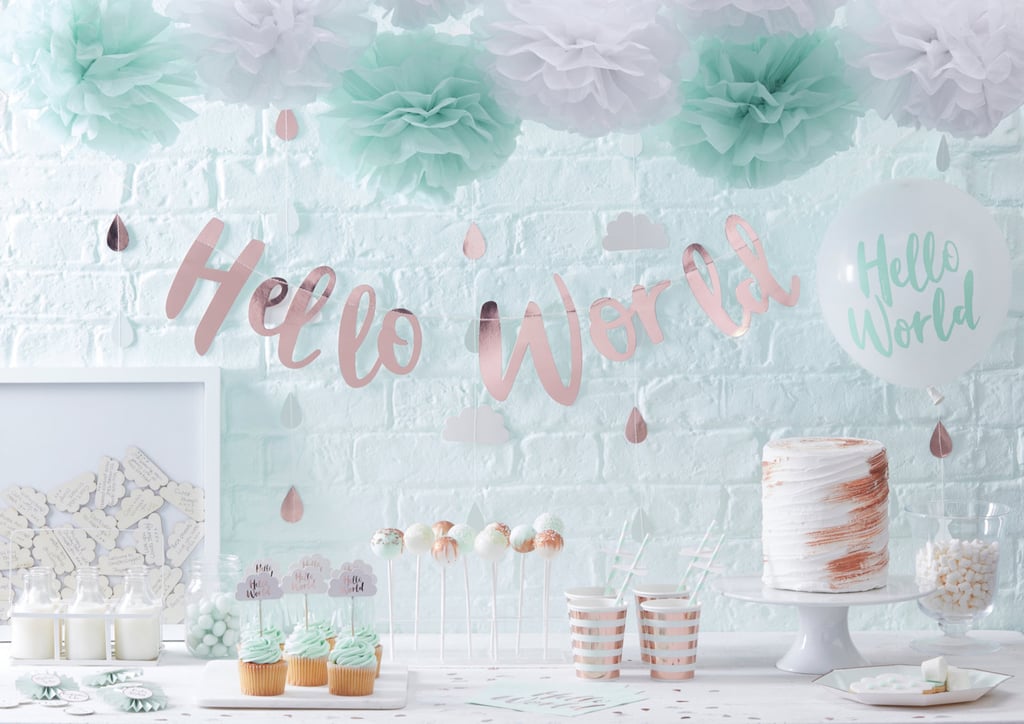 Let The Sweet Party Shop do the work for you, and order up the Etsy seller's "Hello World" baby shower decorations (starting at $4). The rose gold and mint decoration options include banners, balloons, plates, cups, cupcake toppers, napkins, paper pom-poms, and more.
11. DIY Garland Kit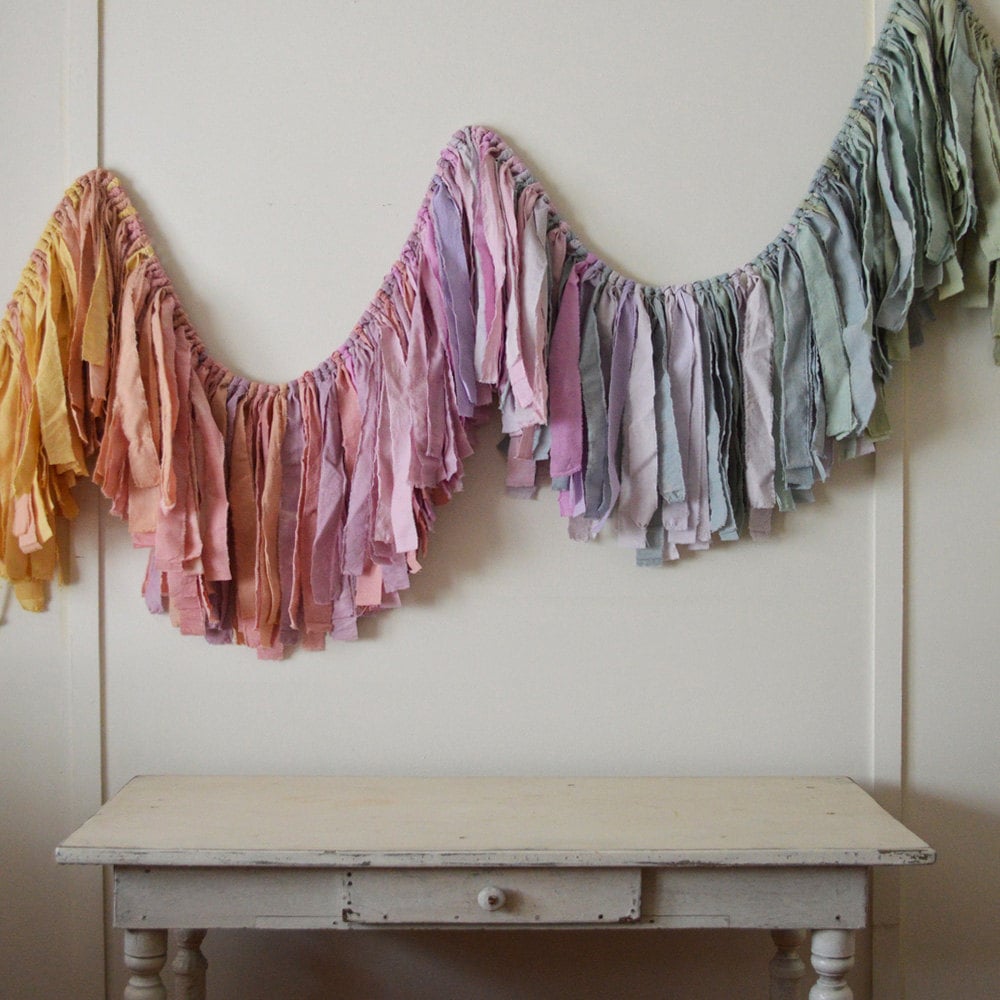 Untold Imprint's Wanderlust garland kit ($98) includes the materials to make a seven-foot garland, including fabric in nine hand-dyed colors, nine-and-a-half feet of cotton rope, and instructions and tips on how to assemble the garland. The finished garland makes a beautiful shower backdrop and an even cooler addition to the guest of honor's nursery.
12. Baby Balloon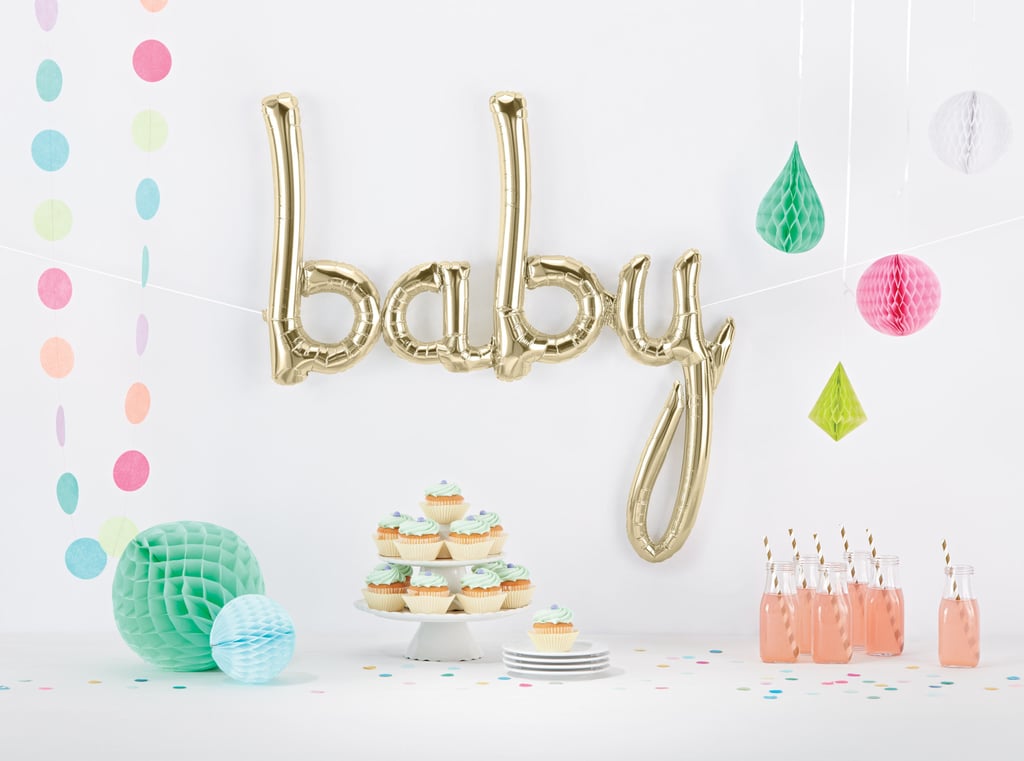 Party Fix's baby script balloon ($7) is 34 inches long, making it the perfect baby shower backdrop.
13. DIY Yarn Chandelier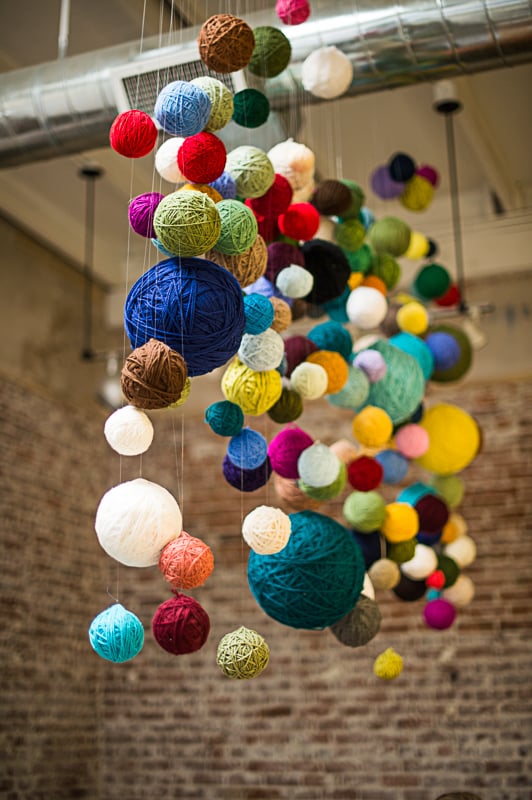 How many hours do you think the awesome DIY yarn chandelier at this amazing vintage-inspired shower took to make? And how cool would it look hanging in a nursery?!
14. Robot Party Hats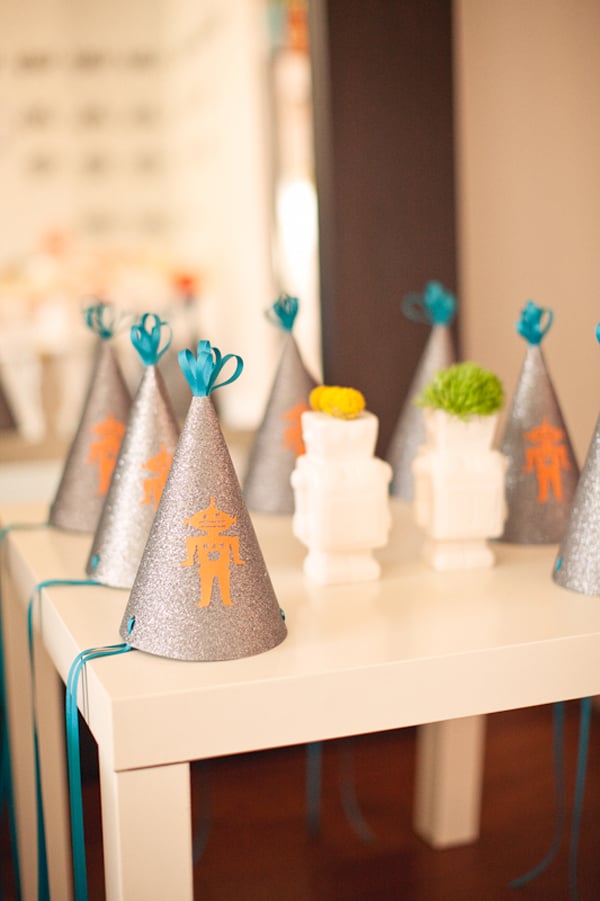 Image Source: Inspired By This
Who doesn't love a party hat? Let the robot-themed, sparkly version at this inventive baby shower inspire you!
15. White Swan Mobile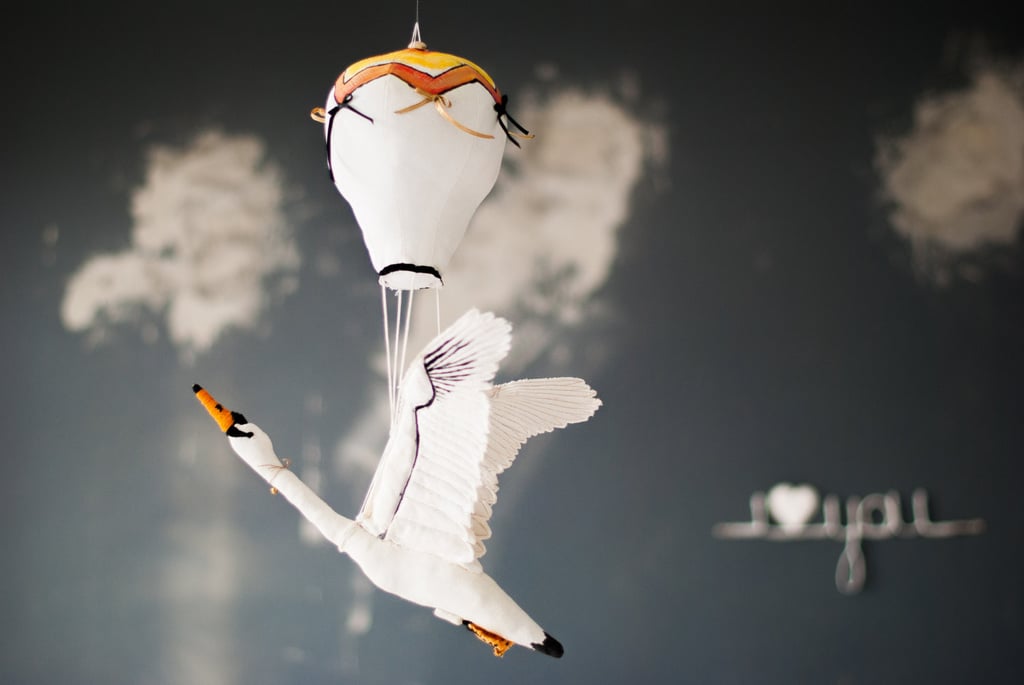 My Soul Design's white swan-balloon mobile ($219) transitions from a gorgeous piece of decor to an extraspecial baby gift for the mom-to-be. Entirely handmade from vintage fabrics, the sculpture is one of a kind.
16. Welcome Baby Cake Topper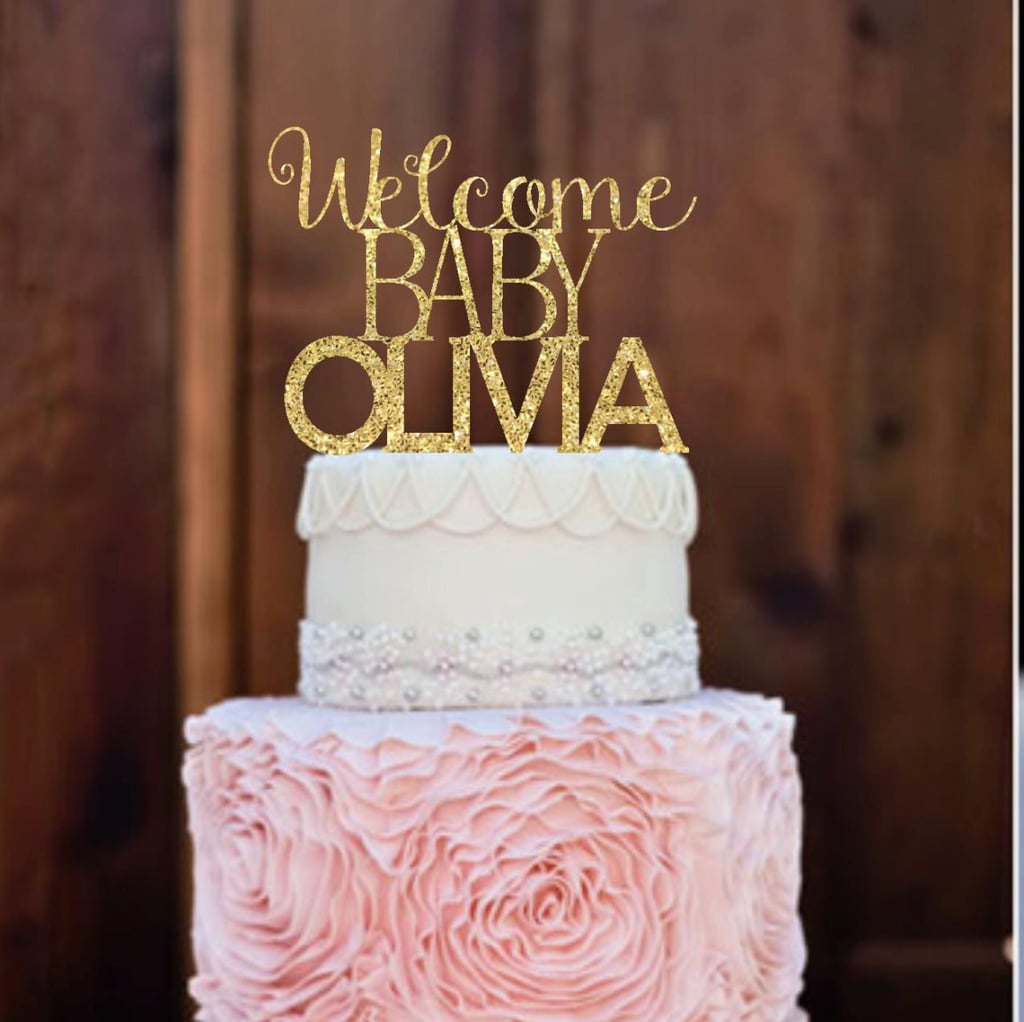 Etsy seller Mommy Got Talent's baby shower cake topper ($13) comes in six glitter colors and is sure to add some wow factor to even the simplest cake.
17. Honeycomb Balls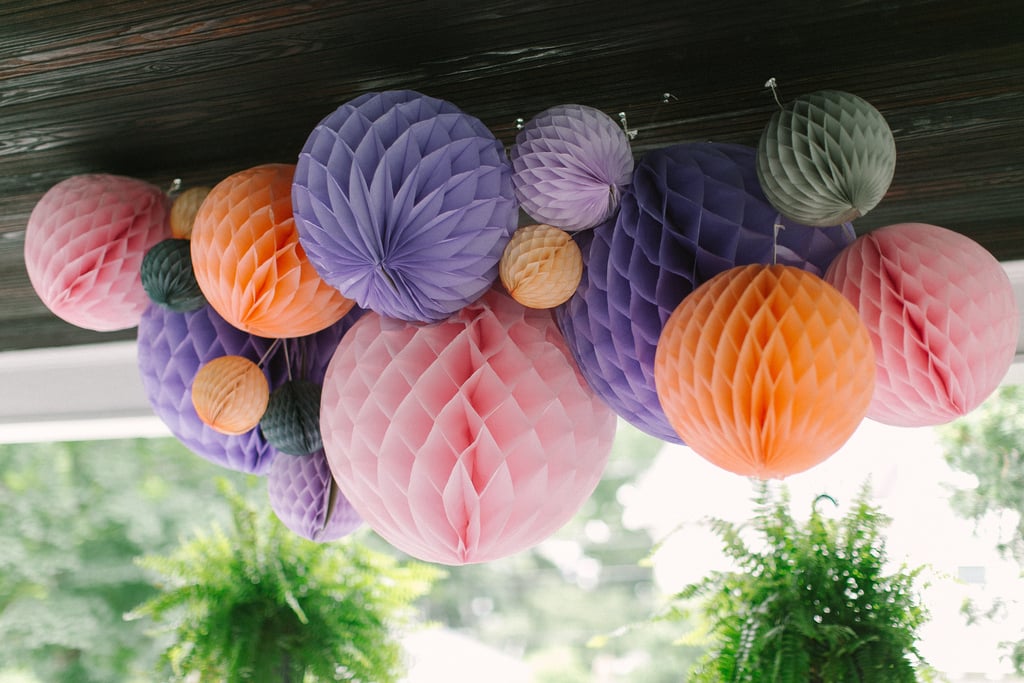 Image Source: Honey & Fitz
This build-a-library baby shower was beautiful, but one element stood out. "I guess the guest of honor's favorite element was the tissue paper balls, since she asked to take them home for the baby's nursery!" said party planner Dina Holland of Honey & Fitz. "I love thinking about how the same decorations we all enjoyed now hang over her changing table and give her something pretty and captivating to gaze up at."
18. Kiddie Kitchen Door 
Sarah of Lil Hoot went crazy (the good kind) with the baking theme at this sweet baby shower, using lots of plays on words, including a banner reading "Let's toast the bun in the oven!" hung over the vintage toy kitchen, a gift for the baby-to-be.
19. We Are Wildly Excited